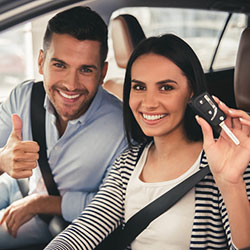 Purchase a new car or refinance and save this year with a low-rate auto loan from Arize.
Member Auto Center
When you find your new or used vehicle, you can now complete your credit union auto loan paperwork at one of our Preferred Dealers! We have teamed up with Keystone Lending Alliance (KLA) to offer lending services to our members for auto financing, allowing you to finance through Arize right at the dealership. This means that you no longer need to stop by the credit union to fill out paperwork and you can complete your car purchase even when the credit union is not open! It can all be done right there at the dealer! Ask for Arize FCU financing the next time you purchase an auto at any of our participating dealerships.
And, to make your auto purchase even easier, you can research new car pricing, look up NADA used car values, find payment calculators, locate a particular car you're interested in, and more using our Member Auto Center! Powered by KLA, the Member Auto Center allows our members to research their new car, find it at one of our Preferred Dealers and apply for their loan quickly and easily online!
Visit the KLA Member Auto Center today!